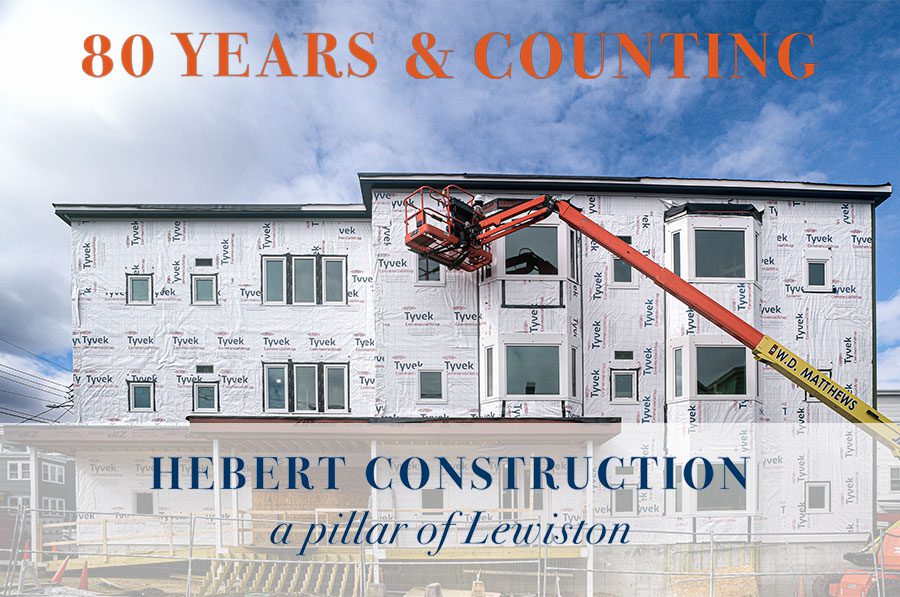 The following is an article from LA Metro Magazine posted on April 6, 2023, by Jillian Netherland
Spanning eight decades and four generations, Hebert Construction has remained a family-run Maine business. With humble beginnings as a small carpentry outfit, to leading the state's commercial construction industry today, the people of Hebert Construction remain committed to the principles that guided them from the very start: quality, safety, and community.
One-man show to family legacy
The Hebert Construction legacy dates back to 1943 when Edward Hebert and his wife relocated to Lewiston – renowned for being a thriving, industrial city – from Van Buren, Maine. Skilled in carpentry, Edward began commissioning jobs out of his home, eventually leading to custom work, and earning him the reputation as a custom home builder. Originally known as Edward Hebert Construction, two of Edward's six children – his oldest son, Dick, and youngest son, Dan – began working alongside their father in 1954 and 1969, respectively. Thus, the company name was changed to Edward Hebert and Sons. At the time of Dick and Dan joining the company, work was predominantly geared towards residential properties and higher end customs, including cabinetry and mill work.
"Back then, trades weren't as segmented, so they did a bit of everything, but were always known for their exceptional craftsmanship," explains Tim Hebert, Chief Executive Officer and third generation Hebert of Hebert Construction.
By 1985, Dick's son, Michael Hebert, current President of Hebert Construction, had graduated from Northeastern University, ready to put his business degree to use in the family business as Field Superintendent. Under Mike's guidance, the company began its shift from residential to commercial construction projects in 1989 – perhaps most notably with local hospital projects – leading to additional projects in health system and commercial housing.
Throughout the 90s, Edward Hebert and Sons continued its transition to a commercial focus alongside housing until Dick's retirement in 1999, leaving the business to be carried on by Dan and the third generation of Heberts.
New brand for a new era
The company officially became known as Hebert Construction in the year 2000.
"The name change to Hebert Construction coincided with the retirement of my grandfather, Dick, and the rebranding furthered our position in the commercial market," says Simon Hebert, Chief Operating Officer and first of the fourth generation of Heberts to join the company. "Since then, we've been strongly positioned within the commercial construction space, in both the healthcare and commercial housing sectors."
In 2015, Dan Hebert also made the decision to retire after dedicating 46 years to the family business. Today, Hebert Construction celebrates its 80th year in business with 65 employees focusing on public housing, healthcare, and commercial projects throughout Central, Coastal, and Southern Maine.
"We opened the Portland office in 2018 and have gained a lot of momentum in growing our customer base as a result," shares Kayla Bartlett, Chief Financial Officer. "It put the Hebert name on a different part of the map and got our reputation out there."
The Hebert name does more than propel the company's business growth, though – it's also what motivates its employees through generations.
"There's a lot of pride in having your name on the company," explains Tim. "I saw the dedication my father put into the business, and I still see it when I go to work every day. My grandfather didn't know it when he started all of this, but he was an entrepreneur."
Family roots expand
It's this sense of family pride that keeps the Heberts in the Maine construction industry. Growing up surrounded by the company, Simon recalls being in the Lewiston Hebert Construction office before school, seeing the crews gather their materials before heading to a job site, and enjoying being a part of the camaraderie. Following high school, Simon knew he wanted to pursue a trade that could afford him the flexibility of working with his hands in the field, that was also challenging in handling estimates and complex job offers. This pursuit led to him earning a degree in civil engineering.
As he went through the job seeking process, he recalled the relationship dynamics he had witnessed between the developers and subcontractors in the field. Not wanting to build these pivotal relationships, only to uproot and rebuild them in a few years, Simon returned to Lewiston to join the family business.
"I always knew I'd come back to Lewiston after school, but I thought I'd end up in Montana or New York for a few years first," shares Simon. "I jumped in with both feet after college, working as a Field Superintendent two days after I graduated and building those relationships right here, right away."
While family values are the cornerstone of Hebert Construction, they don't solely resonate with those who carry the Hebert name. For Kayla, helping employees thrive in their positions, and seeing firsthand the difference made every day in the community through buildings constructed with care and quality from the ground up, are the most fulfilling.
"I am motivated by making a difference, small or large, and as a company, we're doing that every day in our communities," says Kayla, a fellow Northeastern graduate along with Mike, who joined Hebert Construction in 2018, not only as the first female on the management team in the male dominated industry, but also the first non-family member on the executive team. Prior to Kayla coming on board, Hebert Construction had never employed a dedicated accountant, and was seeking someone who could take them to that next step. The challenge in a brand-new position, as well as the family-oriented atmosphere, is what attracted Kayla to both the position and the company.
"It was a good opportunity with a great family company – a place I hope to call home for a very long time."
In a field that is mostly – if not all – male, Kayla quickly proved herself to be a resource through her experience with start-ups and family businesses in public accounting and the tech industry, as well as her creative thought process and new approaches to doing business, including new budgeting tools and detailed ways of viewing project approaches.
"In a family business, it's common to see things from just one perspective," Kayla asserts. "All of my suggestions have been welcomed, whether it's been day-to-day work, or family and health insurance solutions – they see me as a leader and are comfortable coming to me."
Commitment to culture leads to steady growth
As Hebert Construction has made the shift from a residential to commercial niche over the decades, the scale of projects has also increased as a result. A hybrid of market conditions and growing demand for construction throughout Maine has led to different building complexities. This, in turn, has expanded all of the Hebert team's knowledge base, enabling them to manage larger and more intricate projects along the way.
"We don't view growth the way you would with a start-up or venture capital," Tim states confidently. "We care about the quality over the quantity. Because of that, we've naturally continued to grow safely and organically by bringing on people who are likeminded and represent the company the right way."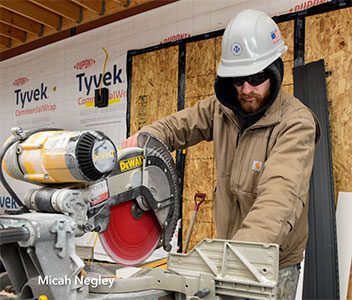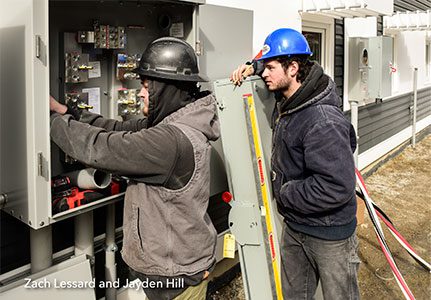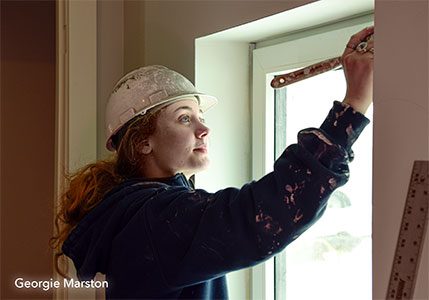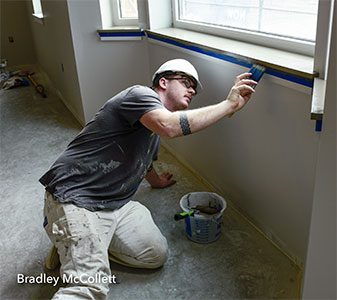 For everyone at Hebert Construction, the employees are truly the core of the company, making Hebert what it is today. Collaboration is key, and it takes strong teammates from foremen to administrative staff, to project managers, and executive leadership working together – not only to be successful and get the job done – but for the wellbeing of each employee's workplace happiness. Something that is held in the highest regard at Hebert Construction.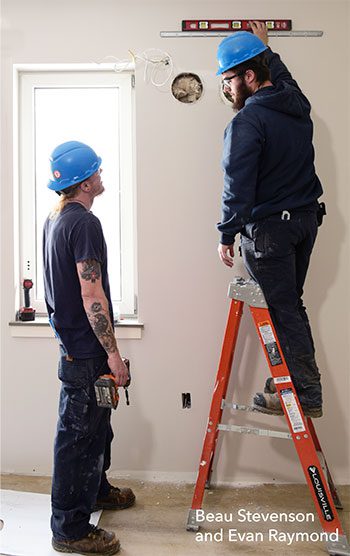 "Something that has not changed over the years is our culture and family atmosphere," reflects Simon. "The loyalty and camaraderie has remained regardless of our size, scope, or scale of projects – we have been incredibly fortunate to continue our success due to the people we have here, and it is truly due to their efforts."
Of course, this success boils down to having the right people in the right positions, caring deeply about their performance as well as the way they represent the company as a whole, maintaining and strengthening relationships through all levels and layers of a project – many of which are also several decades deep. Strong employee relationships such as these are not just one-sided; they are reciprocal.
"Whether they've been with us for 30 years or a new employee, they work here because we care about them," states Tim. "They're a part of our family, so when we hire, we make sure we have the right people who are coming on board for the right reasons and treat them how we want to be treated. Everyone in the company, no matter what position they hold, they care about the work going out the door and the name of the company as if it were their own."
Looking towards the future in Lewiston
Following more than 80 years in the field, Hebert Construction has become an industry leader in the planning and execution of collaborative, sustainable, and community-forward construction projects, always crediting its strong, dedicated team. While each generation has brought with it a fresh perspective and guiding direction that has ultimately allowed the company to continually evolve, Hebert Construction remains committed to its community, projects, and people.
"We've been here for 80 years and we see Lewiston as a place filled with great people who are hard workers, dedicated to their craft, dedicated to their jobs, and have the same core values as our family business – we embrace that," says Tim.
Hebert Construction has called its current office location home since the 1970s. Undergoing many transformations throughout the decades, several employees most notably recall the current breakroom once being a loading zone with a garage door. As with all good things, change is inevitable, and for Hebert, this change is filled with excitement, growth, and promise.
With a rich history in Lewiston and the majority of Hebert employees residing in Central Maine, it only made sense to continue embracing Lewiston as the Hebert Construction headquarters. The company prepares to enter its next exciting chapter at 150 Mill Street in downtown Lewiston with a goal move in date of mid-May 2023. Staying true to the Hebert company culture, employees were the largest factor in this decision, completing a market survey sharing what was most important to them in an office location. Votes to remain in Lewiston were resounding, solidifying the decision for the executive team.
"It's time for expansion and a change of space, so it makes sense to double down on our commitment to Lewiston and relocate to the downtown area," Simon explains. "There is so much interest, potential, and excitement in Lewiston – not only are we taking this step in ensuring that it's our home forever, but that it's a place others should be looking at as a beacon moving forward."
Considering 80 years in the future may sound daunting to many, but for those part of a company that has not only prevailed, but thrived and grown throughout generations, decades, and industry shifts, the next 80 years is just the beginning.
"We want to embrace Lewiston, and celebrate it as the big deal that it is," Tim shares. "Our company's longevity is not because of one person, but because we have everyone working towards the same goals with the same ideals, right here where it all began. We are excited and ready to make Lewiston our home for the next 80 years."