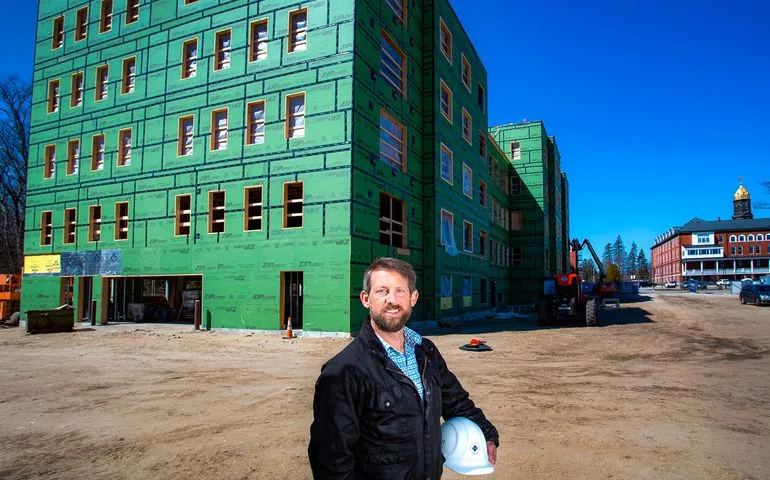 The following is an article from Mainebiz posted on April 17, 2023, by Laurie Schreiber
Over the past couple of years, the construction industry has seen substantial price hikes across the board — from materials to labor to the cost of borrowing.
The situation is starting to level off this year. "In 2021 and 2022 the construction market saw roughly 15% to 18% inflation year-over-year," says Tim Hebert, CEO of Lewiston-based Hebert Construction.
Inflation has gripped many industries. In construction, says Hebert, every cost center is higher today than it was in the past — labor, materials, transportation, fuel, insurance, health care, real estate, housing. "That said, 2023 is off to a better start as we see more availability and less volatility," says Hebert.
For nearly three years, the construction industry has been in the midst of a period of exceptionally volatile and sometimes fast-rising costs for a variety of materials, compounded by major supply-chain disruptions and difficulty finding enough workers, according to the Associated General Contractors of America's December 2022 construction inflation report.
New challenges
Even as some conditions improve, new challenges keep emerging, the report notes. Supply chain bottlenecks have eased. But the war in Ukraine and sanctions against Russia are among the factors that continue to disrupt production and shipping. And construction firms nationwide "are far short of the number of workers they have been seeking," the report says.
Kelly Flagg, executive director of Associated General Contractors of Maine, says the industry is seeing volatility in materials pricing as well as a continued tight labor market and a strong backlog of projects.
Hebert says most of the trades are seeing the supply chain come back to normal lead times. But still at risk is the availability of some items, such as generators, specialty mechanical equipment and highly engineered components. And pricing of certain raw materials remains uncertain.
On the other hand, other materials are starting to come down, such as wood, aluminum and steel.
"The main reason the customer is not seeing a decrease in pricing is because the total manufactured cost of construction is more influenced by labor than material," Hebert notes.
Hebert says costs seem to have stabilized to a degree that he doesn't expect them to impact projects. But interest rates — more than doubling within a year — might affect projects if consumers can't adjust quickly enough.
Overall, the industry is still seeing costs increase, but the rate of increase is more typical of pre-pandemic levels, says Matt Tonello, director of operations/Maine for Consigli Construction.
"We are currently experiencing less volatility and therefore increased predictability," he says.
Labor costs continue to increase, "but at a seemingly more normal pace," Tonello continues, adding, "Labor availability continues to be challenging, which strains productivity and, therefore, cost."
Longer lead times
Kevin French, CEO of Landry/French Construction in Scarborough, says that, in general, his firm saw project costs go up in the 20% to 30% range over the past two years.
"We are starting to see stability in the marketplace," French adds. "It's not as volatile as it once was, especially with the steel market."
Some recent numbers on lumber have shown cost decreases, says French.
"Our thinking is that higher interest rates have dampened residential construction, and that lower lumber demand trickles into commercial construction — even though we use less wood — and translates into lower prices," he says.
Other impacts to the industry are the costs of fuel and rising interest rates.
"Additionally, the lack of labor out there is hurting productivity, which pushes costs higher," says French.
Taken together, the result is that some projects take longer to go from concept to putting the shovel in the ground, says French.
"But the good news," he continues, "is that we're not seeing projects get canceled. We just need to work harder along with our clients and design partners to figure out what combination of program, scale and materials will eventually get the project to work."
The company addresses supply chain issues, on almost all of its projects, by pre-purchasing long-lead equipment — such as electrical switchgear, generators, rooftop units, and HVAC equipment — at no additional cost to the customer. Some of the items otherwise could take up to 16 months for delivery.
"Securing these items ahead of time ensures that project schedules won't be impacted and mitigates cost risks to our clients," says French. "Our preconstruction team is working on projects 12 to 16 months out securing long-lead items."
Escalation leveling off
Jeff Zachau, president and CEO of Zachau Construction in Freeport, says he doesn't anticipate the industry will see an overall pricing decrease.
However, he continues, "escalation has leveled off and some commodities have decreased from peak 2022 levels. Many industry experts are continuing to forecast overall price escalation of approximately 5%."
Production and supply chain disruption originated during the pandemic, "but high demand and a continuing labor shortage nationwide have contributed significantly to the price escalation," he says.
In a sample price comparison, Zachau says that, in recent years, the company has built over 500 units of affordable housing.
"Four to five years ago we were seeing projects built in the $200 to $230 per square foot range," he says. "Currently projects are coming in the $310 to $340 per square foot range."
While supply chain issues have eased, there continues to be significant disruption and delays associated with HVAC and electrical gear, requiring early procurement of the long-lead items to avoid significant project delays.
Strong backlog
Zachau says that his firm hasn't had a project canceled as a result of increased prices.
"Owners are forced to make difficult decisions impacting their original programming," he says. "Understanding the non-negotiables for the owner and where they can compromise is foundational in the construction management process and bringing a project to budget."
Materials that have been particularly volatile, says Zachau, are concrete, insulation and paving material, which all increased approximately 30%. Gypsum material increased over 100% from the previous year.
However, he continues, those commodities could trend downward in price as single-family home production declines.
Also trending upward are copper and aluminum, while dimensional lumber, plywood and steel are trending downward, he adds.
"However a strong backlog for subcontractors and labor shortages continue to apply upward pressure on the final installation of these materials," Zachau says.
Flexibility and options
Tonello notes that commodity prices have been declining, but "the same price reductions are not reflected in fabricated components, meaning after labor has been put into finished or fabricated components.
He adds, "Other factors that are contributing to driving higher material costs related to complex, high demand components such as electrical switch gear, electrical generators and HVAC equipment."
A key strategy to mitigate the issue, Tonello says, is providing and planning for multiple options for product options, while also building in the potential need for flexibility during construction so the company can pivot to an equal or similar manufactured product if necessary.
"Additionally, earlier procurement of trade contractors — as trade contractors are filling up backlog farther out in the year — is important," he says. "We have found that, especially on larger projects, it is necessary to engage the specialty contractor market much earlier, and long before construction documents are complete."
Cost of labor
Another issue for the total manufactured cost of construction is the growing cost of labor.
"The biggest issue are trades that require a skilled trained workforce that might not be talked about at the kitchen table as a profession or career yet require a certain aptitude and years of hands-on training," says Hebert.
But he says he's started to see a shift, with more qualified workers applying for open positions and some younger people showing interest in the industry.
"In 2021 and 2022, there were a lot of unskilled people on jobs filling positions due to extremely high demand," he says. "Now we're starting to see more people interview for positions in the field who have the skills and the aptitude that's needed to be able to grow and create a career."
AGC Maine's Flagg says the association is addressing the labor challenge by promoting pre-apprenticeship programs throughout the state, including the launch of its first Maine Construction Academy – a six-week construction immersion program geared to prepare out-of-school youth for construction apprenticeships.
Cautious optimism
Industry pros are cautiously optimistic for the coming year.
"Our optimism is anchored in the growing acknowledgment that Maine is a great place to work, live and play," says Zachau. "We believe that despite the inflationary pressure and rising interest rates this will continue to fuel business growth and the need for all types of housing in southern Maine."
He adds, "Higher interest rates will impact the closing of deals, but a strong backlog will provide continuity while adjustments are made to advance good projects."
Tonello's predictions include increased demand and wages for skilled trade workers; slowing of new office construction and increase in office to housing conversions; increased construction in manufacturing, onshoring and clean energy projects; and slowing of projects that are heavily reliant on commercial interest rates.
French says that, while he's seeing some projects being delayed, none are being canceled.
"We're still forecasting a good book of business for 2024 and 2025," French says.
Hebert predicts that quality will prevail over quantity, lending will remain steady and align with projects that make sense, and interest rates will stabilize or even relax slightly.
Hebert's strategy?
"We have been focusing on our people, continue to build relationships with our subcontractors and suppliers and we are honest with our customers," he says. "Our customers are smart people. They can deal with the information and they appreciate transparency and teamwork and that is what we deliver."