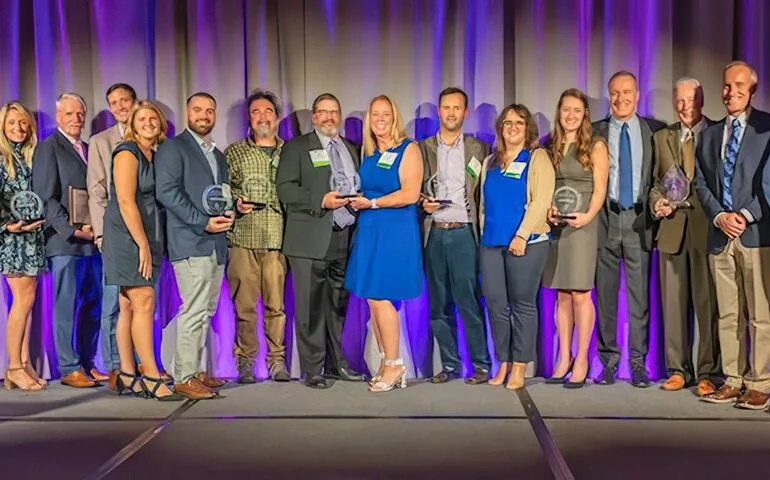 The following is an article from MaineBiz posted on August 25, 2023, by Renee Cordes
Out of 500 Maine companies nominated for this year's family business awards, 26 finalists are in the running for the annual contest.
The Institute for Family-Owned Business released the names of finalists on Thursday, with plans to announce the winners at an Oct. 18 event featuring Chase Morrill, Ashley Morrill and Ryan Eldridge of "Maine Cabin Masters" fame as the keynote speakers.
The three are owners of Manchester-based Kennebec Cabin Co. LLC, the winner of last year's Holiday Inn First Generation Award, one of several award categories.
All family-owned businesses headquartered in Maine are eligible for consideration. For purposes of the awards, a family business is one in which one owner either shares ownership or works in the business with at least one other family member (contemporaneously or over time) and has a commitment to continuing the enterprise.
This year's awards, the 23rd edition, drew 500 nominations. They were whittled down to 35 semi-finalists and then to the 26 finalists, listed below.
2023 finalists
Bow Street Market
Brodis Blueberries
Centerpoint Martial Arts
Chadwick's Craft Spirits
Chilton Furniture
Dance Studio of Maine Inc.
Dragonfly Farm and Winery
edible MAINE
Gorham Sand & Gravel Inc.
Hancock Lumber
Hebert Construction
Holy Cannoli
Mahoosuc Guide Service
Maine Med Cleaning Services
Maine-ly Drizzle
Marin Skincare
Means Wealth Management
Moriah Market LLC
Mr. Drew and His Animals Too
NRF Distributors Inc.
Pedego Electric Bikes Boothbay Harbor
Pratt Abbott Garment Care
Cote Corp.
Tree of Life Chiropractic
Uncommon Hospitality
Wood Pellet Warehouse
Each year since 2000, IFOB, a Portland-based nonprofit trade group, has recognized large and small Maine-based family businesses that exemplify business success, positive business and family linkages, contributions to the community and industry, family participation, work environment, communication, and innovation. An independent judging panel selects the winners.
Hosting the awards this year is Amanda Hill, news anchor for NBC television affiliate WCSH, also known as News Center Maine.
Besides recognizing winners in eight categories, IFOB will award Janet Cole Cross of Cole Cross Connections LLC with the BerryDunn Lifetime Achievement Award. The recipient is voted on by the IFOB board and announced prior to the awards night and celebrated at the gala, while all other winners are announced live.
More information
The Oct. 18 event, taking place at the revamped L.L.Bean headquarters building in Freeport, includes an online registration option. Find out more and register here.