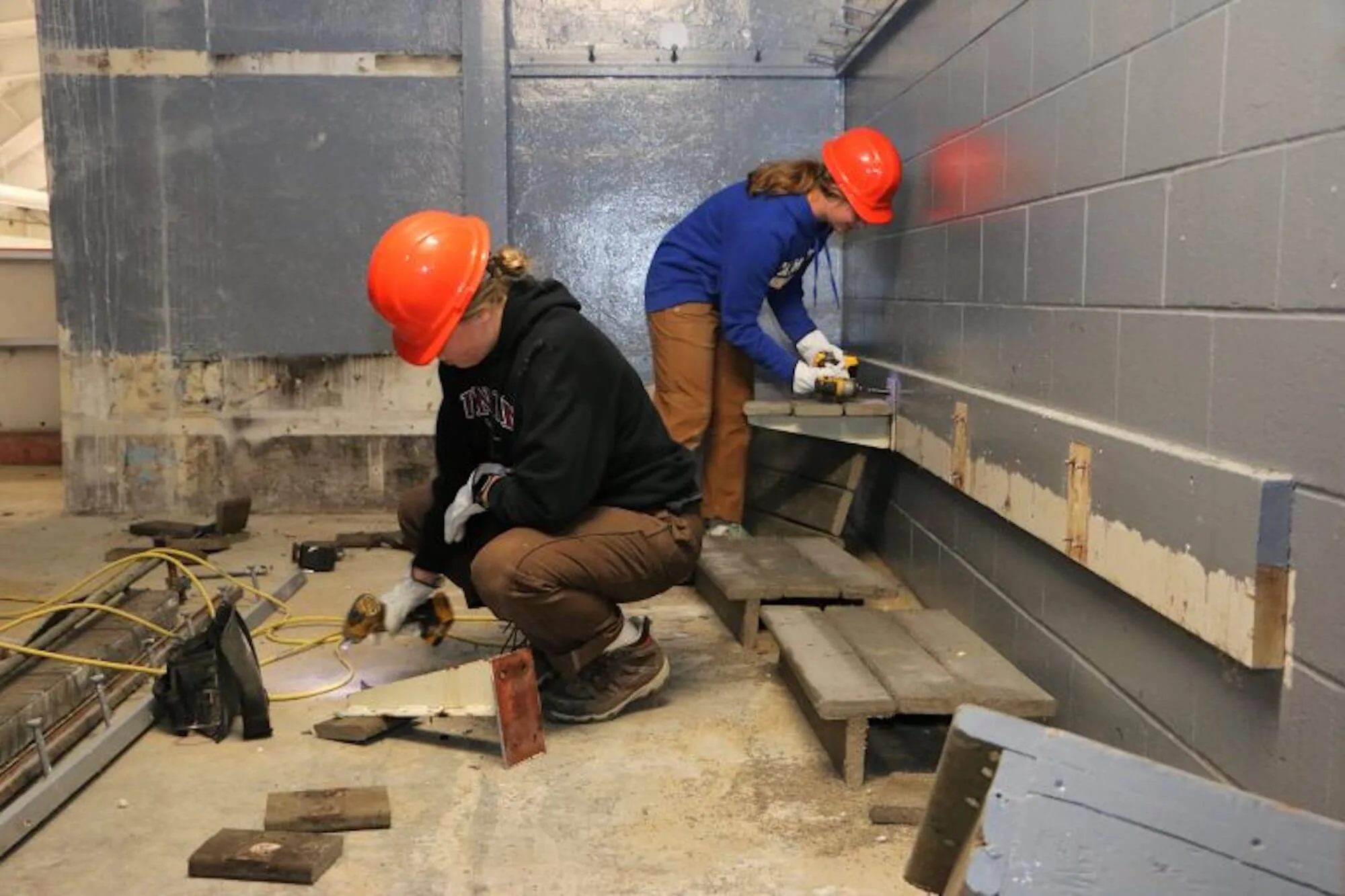 The follow is an article from North Yarmouth Acadamy, posted on January 5, 2023
Yarmouth, Maine, January 5, 2023: North Yarmouth Academy (NYA) parent Tim Hebert, owner of Hebert Construction and lead contractor on NYA's Travis Roy Ice Arena and Fitness & Wellness Center project, will present the Academy with a check for $35,950 on Friday, January 6, 2023, at 10:30 a.m. during a Middle and Upper School assembly. Hebert Construction pledged a donation of $25 to the project for each hour a student worked, and to double the contribution if students worked more than 200 total hours. 16 students met and exceeded that mark working 719 hours at NYA. Performing tasks ranging from demolition, cleaning, underlayment, laborer, floor removal, and floor preparation to name a few.
"Ultimately, what I hope this does is bring continued awareness to the value of every person who chooses to work with their hands," said Hebert. "No matter if any of the students start their own business, take over a business, become a team leader, or work with their hands, they will have experienced the value of a hard-day's work and how important each person is in achieving success. Hebert Construction is successful because of our people. Every person in our company plays a role in our success and the success of the Travis Roy Arena project is made possible through the hard work of every person who contributed."
Hebert hopes this program will demonstrate to the students the important role individuals have in making a company and a project successful as well as the value and importance of foundational jobs and their impact on our Maine economy.
"The students gained insight into the importance of skilled trades that is in large part, learned on the job," said NYA Head of School Ben Jackson. "We can't thank Tim and everyone at Hebert Construction enough for providing this valuable experience for our students and donating back to the Academy in their honor. Their hard work has made a direct and lasting impact on NYA."
The NYA students who worked to make our project successful include: Michael Belleau '22, Nick Pelletier '24, Jack Hebert '25, Sawyer Hebert '27, Derek Wolverton '21, Bryce Bernier '22, Eliza Chace '22, Rogers Crowley '23, Owen Frank '22, Acacia Gee '22, Noah Halward-Rough '22, Aidan McAuslin '24, Colin Roderick '23, Chas Rohde '22, Seamus Rohde '23, and Courtney Swenson '22.
In April 2022, NYA began construction of a reimagined Travis Roy Arena and the addition of a fitness and wellness center. The 4,000+ square foot fitness and wellness center will include cardio and strength training equipment, weights, and flexible space for yoga, meditation, and mindfulness. There will also be dedicated space for classroom instruction and team meetings. The project will also focus on modernizing, enhancing, and expanding the Travis Roy Ice Arena, transforming both the player and spectator experience with new locker rooms, athletic training space, and additional seating. The arena improvements will support the legacy of excellence for NYA's top-tier boys and girls ice hockey programs, while enhancing the Academy's ability to be a community resource. In addition, the new facility will offer a permanent, high-visibility home for the Edgar F. White '38, Athletic Hall of Fame.
North Yarmouth Academy is an independent, college preparatory, coeducational school for toddlers to postgraduates with an enrollment of 375 students. Since 1814, NYA has fostered integrity, character, and intellect in its students. For more information, please contact NYA at 207-847-5423 or information@nya.org.