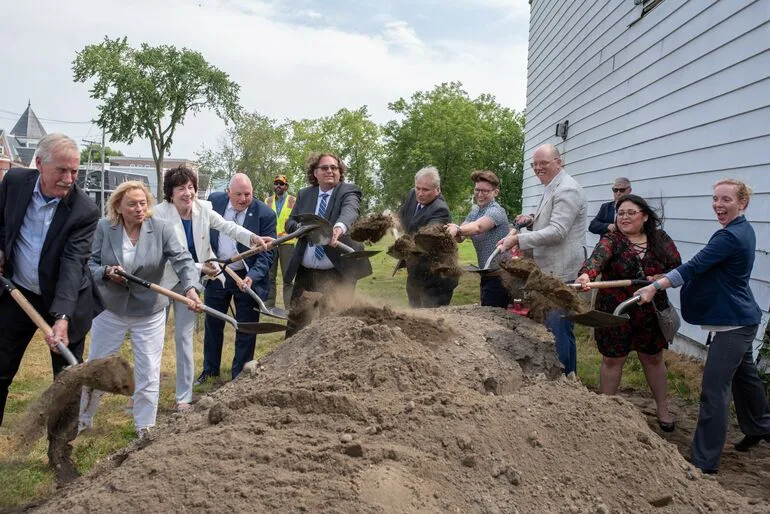 The following is an article from Mainebiz posted on July 27, 2023, by Peter Van Allen
In 2020, the U.S. Department of Housing and Urban Development announced a program offering grants of $30 million each to cities to develop affordable housing.
Lewiston was the smallest city to receive such a grant.
On Monday, July 24, Lewiston Housing and elected officials at all levels broke ground on the first of the Choice Neighborhood initiative developments, to be known as Wedgewood.
LEWISTON HOUSING
Wedgewood will feature 82 rental homes in nine buildings on Pierce, Pine and Bartlett streets. It is named for neighborhood's historic Wedgewood House, at the corner of Pierce and Pine streets. The development will replace 42 older public-assistance units that are showing their wear, providing a net gain of 40 units.
Avesta Housing, the Portland-based nonprofit, will partner with Lewiston Housing on the project.
The Choice Neighborhoods grant allocates 70% of the award to support the housing plan, 15% to support the people services and 15% to support neighborhood improvements.
It is also expected to leverage another $80 million in funding.
Partners
In addition to the U.S. Department of Housing & Urban Development, funding partners include Evernorth, Federal Home Loan Bank of Boston, Genesis Community Loan Fund, John T. Gorman Foundation, MaineHousing and Norway Savings Bank.
Partners on Wedgewood's construction include Acorn Engineering, Allied Engineering, Barba + Wheelock Architects, Curtis Thaxter, Hebert Construction, Kaplan Thompson, Klein Hornig and Pat Carroll Associates.
Plans for 2024
A second phase of the Lewiston Choice Neighborhood Initiative's housing development will be Dewitt, a development of 104 residential units at 40-60 Pine St. It will be two mixed-use buildings with commercial space on the first floor. It will mainly be 1- 2-bedroom residential units. Dewitt received planning board approval on July 10 and is expected to break ground in 2024.