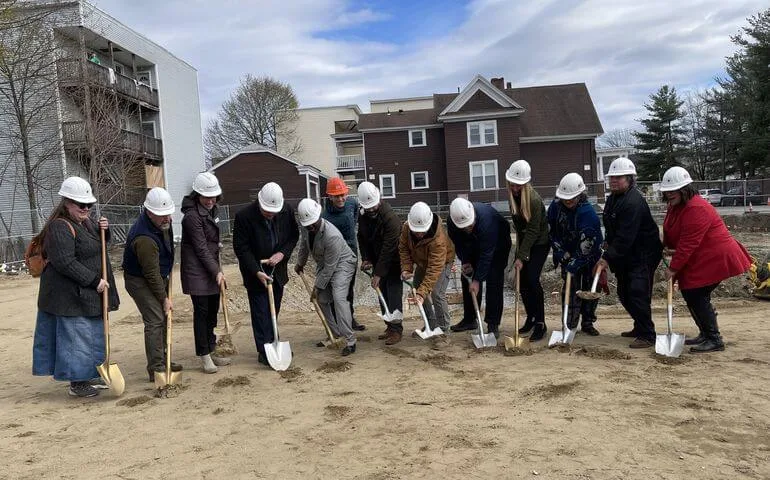 The following is a story from Mainebiz regarding the breaking ground of Raise-Op published on April 29, 2022 by Jessica Hall
A Lewiston organization led by residents broke ground this week for two new buildings that will create 18 units of affordable housing.
The development is partnership between Raise-Op, a residential housing cooperative, and Evernorth, a regional syndicator of affordable housing, with financing from MaineHousing. Lewiston Housing will provide property management services, and the Raise-Op staff will provide the resident services.
The vacant lots at 198 Blake St. and 84 Walnut St. will become one-, two-, and four-bedroom apartments, and will be available to rent for families who earn 60% or less of the area median income.
Raise-Op, founded in 2008, acquired the lots in 2018 with financing support from Community Concepts and a grant from Healthy Neighborhoods, which installed community artwork and facilities to make a small dog park.
Raise-Op's long-term vision for the space was permanently affordable housing that would meet the needs of residents in the way that existing buildings cannot achieve due to their age and design. This included physical accessibility, air quality, energy efficiency and more privacy for residents in their homes, Raise-Op said.
"Blake & Walnut is going to help address housing issues for tenants who are struggling to get an apartment.  It will help to unite neighbors, and help people to afford their homes," said Hilowle Aden, board director of Raise-Op.
Raise-Op currently owns three apartment buildings, containing 15 affordable homes for its 50 residents, who meet on a regular basis to discuss the budget and other issues that affect their buildings and the neighborhood. Seeking to double the size of the development, Raise-Op purchased additional land from the city of Lewiston and applied for MaineHousing's 4% tax credit program.
The new buildings will be the first passive-house certified buildings in Lewiston, a design standard for building operation regarding energy efficiency and air quality. The result is a comfortable and healthy living environment for the residents, and a lower carbon footprint as the building demands less energy consumption, according to Raise-Op.
The project also marks the first time a housing cooperative in Maine has served as the developer of housing that utilizes the low- income housing tax credit program as a financing mechanism.
Each unit will provide heating and cooling, air ventilation, dishwasher, and electricity included in the rent. The four-bedroom apartments will feature two full bathrooms each.  First-floor apartments will be physically accessible, including ramps and accessible parking spaces. The building at 84 Walnut will provide office and community room space to residents of both properties.
Shanna Cox, LA Metro Chamber president and CEO, said, "In our economic and business development work, it has become clear that a lack of housing is one of the biggest limiting factors of economic growth. We are excited to see these much-needed additions to the local inventory, and to see the partnerships that made it possible."