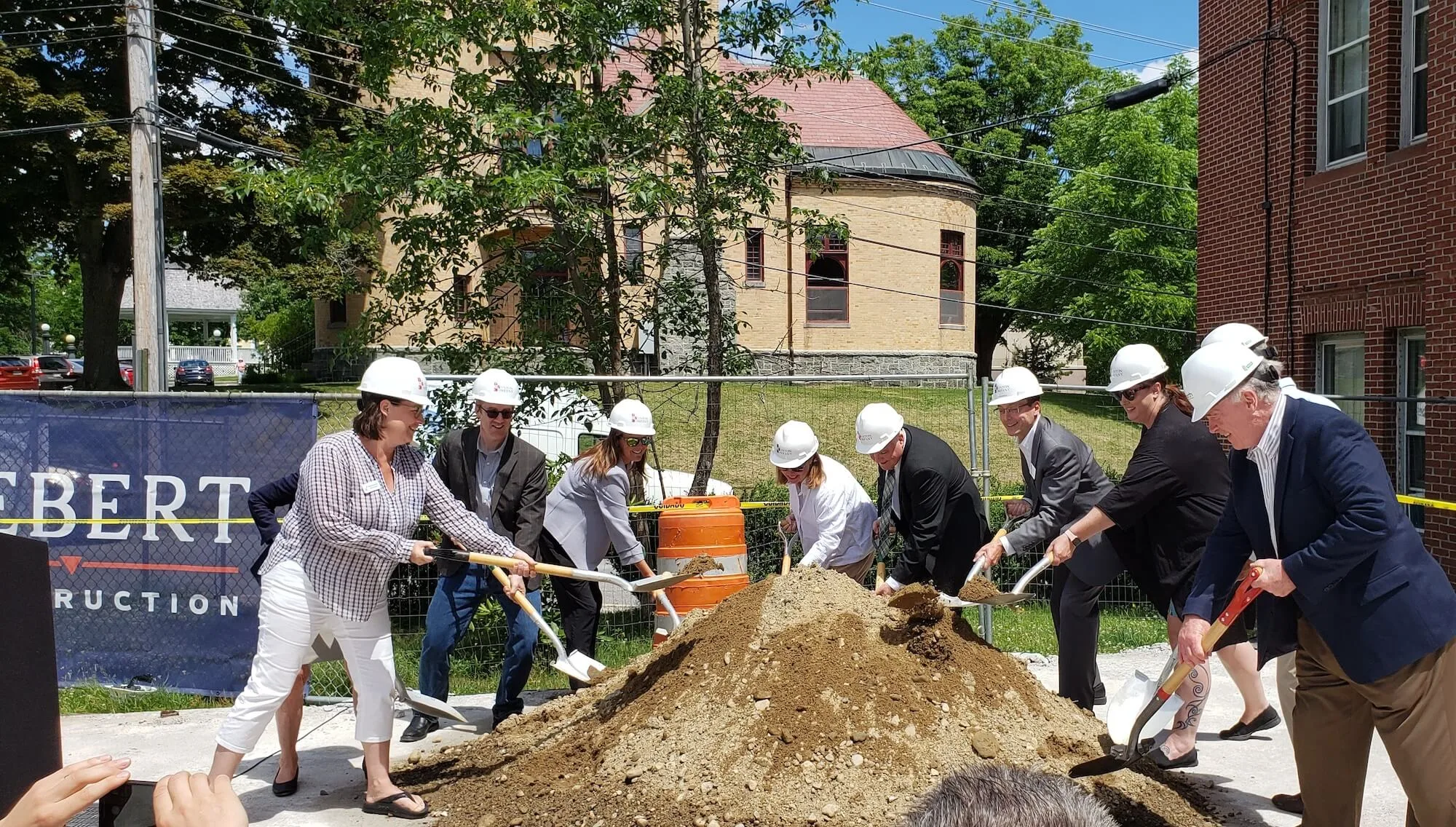 The following article is from Mainebiz about The Uptown, posted on July 7, 2022, by Jessica Hall
The Szanton Co., the Portland-based housing developer, has broken ground on the Uptown in downtown Bath, a $12 million project to create 50 new apartments for residents ages 55 years and older.
It will develop the apartments on the site of the former YMCA at the corner of Summer and Front Streets.
"Adding more households to downtowns strengthens those downtowns," said Amy Cullen, Szanton Co. vice president and project manager. "This is right downtown, across from the library. It has great walkability."
"The demand for housing is intense in Bath and in most parts of the state," said President Nathan Szanton. "We're getting tons of interest and have a lengthy waiting list already."
In September 2019, the Szanton received permission from the Bath city council to buy the vacant lot at 26 Summer St., where the demolished portion of the YMCA stood. The half-acre lot, which has sat vacant since 2012, will accommodate 46 of the 50 new apartments. Four new loft-style apartments will be added in a currently vacant portion of the Columbia block.
The project will include a complete rehab of the historic YMCA gym, bringing it back to its original design and creating in it a community room and fitness center for residents.
The new units will be available for occupancy in December 2023, Cullen said.
The Uptown name is a nod to the movie theater of the same name which occupied the center of the site from 1938 to 1962. The theater was torn down in 1961 to make way for the YMCA pool, which stood until 2012.
The project also includes the rehabilitation of the adjacent Moses and Columbia Blocks, at 24 Summer St and 168-194 Front St. These two buildings were built in 1897 and designed by John Calvin Stevens, a noted Maine architect.
The buildings currently house 10 residential units and six ground-level retail spaces. Tenants will remain in place during the renovation and modernization of the units, as well as during the historic renovation of the exterior of the buildings.
"With increased costs, a labor shortage and everything, we've never worked so hard to get a deal done. It has so many different components from historic renovation to low-income housing to market rate to new construction, retail. There's a lot of moving parts," Cullen said.
Bath Housing Development Corp. previously owned the Moses and Columbia Blocks, but sold the buildings to Szanton earlier this month.
"MaineHousing shows there is a need for 180 similar units here in Bath and over 14,000 in Maine," said MaineHousing Director Daniel Brennan. "Partners like the Szanton Co. and Bath Housing Authority are working diligently in this and other communities to address the housing needs of Mainers."
Most of the apartments will be set aside for households age 55 or greater. Roughly 70% will be reserved for households earning $30,000 to $42,000 per year with rents ranging from $790 to $953 per month for a one-bedroom unit. The remaining 30% will be rented at market rates, without regard to tenant incomes.
Cullen sees the development as an opportunity to create much-needed turnover in Bath's housing stock.
"Many older adults are looking to downsize to someplace where they can forgo home maintenance and become less dependent on driving," said Cullen. "When they move to this project, it will free up single-family homes in Bath for younger families."
Commercial spaces in the Moses and Columbia Blocks, at 168 through 194 Front Street, include a portion of Lisa Marie's Made in Maine, Loyal Biscuit Co., J'Adore Consignment, Open Door Books, Kneading Balance Massage, and The Library Book Store.
The Szanton Co. has developed 12 mixed-income apartment buildings throughout Southern Maine and Seacoast New Hampshire since 2004. In Bath, it redeveloped the vacant John E.L. Huse Memorial School into 59 apartments in 2017.
The Uptown building was designed by Archetype Architects of Portland and is being built by Hebert Construction of Lewiston and Portland.